If you are headed out to the campground for your spring camping trip with your family, you'll want to pack your Dutch oven and a few easy ingredients. This easy spring camping recipe will help you make delicious meals that will fuel you for a day at the campground. All you need is a Dutch oven, a fire, and a few simple ingredients!

Ingredients:
Recipe adapted from a recipe on HollyShores.com
Serves 4
6 oz. bacon

4 red potatoes

1 sweet onion

2 garlic cloves

4 eggs

1 cup shredded cheddar cheese

1/2 tsp parsley

salt & pepper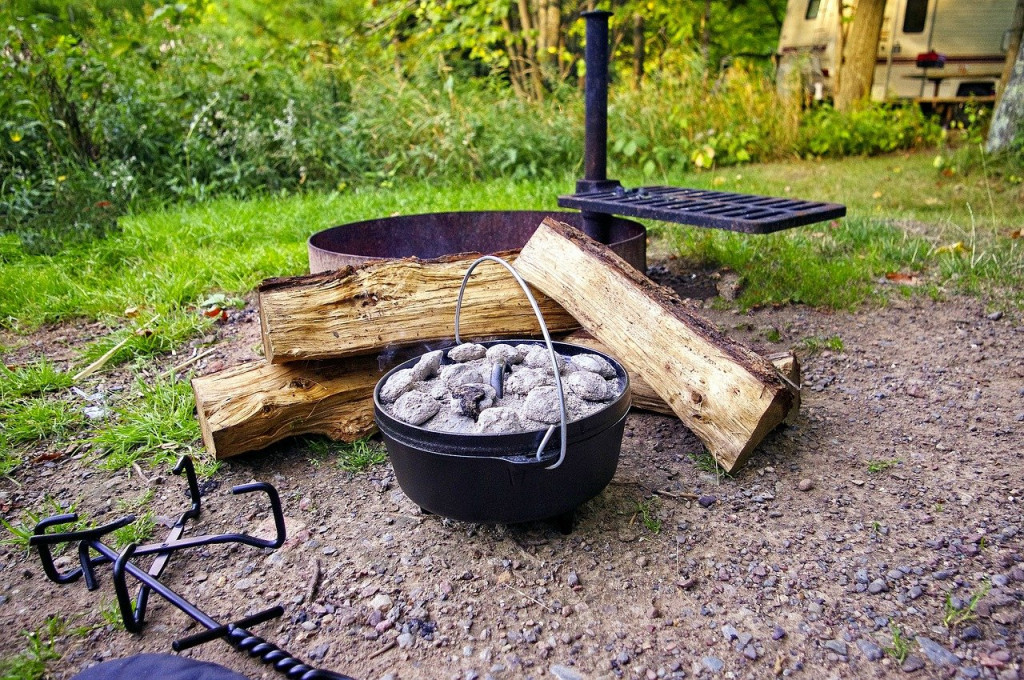 Instructions:
Build a strong fire in your camp's fire ring and let it burn down enough that there are plenty of coals to place on the lid of the Dutch oven later (pictured below).

Dice the bacon, potatoes, and onion. Mince the garlic cloves.

Set aside the potatoes, onion, and garlic cloves.

Fry the bacon over medium-high heat in the Dutch oven until crispy.

Remove from the oven and place on a paper towel to drain excess grease.

Save 3-4 tbsp of bacon grease and set aside another 1-2 tbsp of grease for later.

Fry the potatoes and onions in the bacon grease, seasoning with salt and pepper to taste. Cover and place 10-15 coals on the lid for even cooking.

Cook until tender, approximately 20 minutes, check and stir frequently to prevent burning.

Remove the potatoes and onions from the oven once cooked and set aside.

Add the remaining bacon grease to the oven. Crack the eggs into the oven and season with salt, pepper, and parsley.  Allow the eggs to cook until the whites are almost solid, then flip. Cook until the whites are solid and the yolk is slightly runny. 

Remove the eggs and set aside.  Cover to keep warm.

Return the bacon, potatoes, and onions to the oven and stir to combine. Top with cheese and allow it to melt.

Serve warm and top with a fried egg. 
If you're ready to get your camping season started but need an RV to take your family to the campground, contact us today! Shop our RVs for sale with outdoor kitchens today!